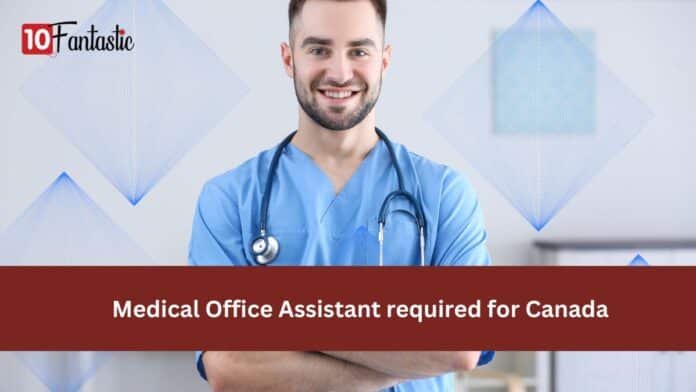 The company Fall River Family Practice wants a Medical Office Assistant required for Canada urgently. The company offers full-time permanent employment for skilled people. The candidates are to be determined and perform several shifts i.e Morning, Evening, Weekend, Early Morning etc.
The company hires skilled and professional persons who perform tasks in a medical office. Able to work in urban areas and health care institutions/clinics easily. Perform work of medical assistant and medical secretary-related work to deal with patients. So, people who are willing may bring important credentials to avail of this job position.
Medical Office Assistant jobs:
Applicants will bring their documents to apply;
Job Title: Medical Office Assistant
Company Name: Fall River Family Practice
Number of jobs:
There is only 1 vacancy offered
Type of Job:
Full-time permanent job
Location of Job:
3254 Hwy 2 Fall River, NS B2T 1J5, Canada
Wages:
The company offers $15 Canadian Dollars per hour. The employees should work 42 hours weekly approximately.
Academics & Expertise:
The candidates must have a college/CEGEP level degree with English spoken skills. Also, having experience in the same field will be an asset for him.
Facilities Provided by Company:
A company provides;
Free Parking
Learning and Training opportunities
Overtime
Medical
Transport
Responsibilities/ Duties:
The applicants perform;
Responsible to greet people & direct them to contacts/ service areas
Provide basic information to clients & public
Schedule and confirm appointments and send invoices to clients
Obtain and process information required to provide services
Excellent communication skills
Outstanding interpersonal & time management skills
Answer telephone & relay calls and messages on phones
Maintain work records and logs
Receive and issue payments
Moreover, perform clerical duties i.e filing, distributing mail and sorting, etc
Work in Electronic Scheduler, MS Excel, PowerPoint, Word, etc
Showing a positive attitude and working as a team player
Control electronic medical records and operate switchboard 1-25 lines
Method for Applying?
Interested people should apply for Medical Office Assistant required for Canada. Send us updated CVs, recent photographs, and experience certificates;
Email: marvaquist@eastlink.ca