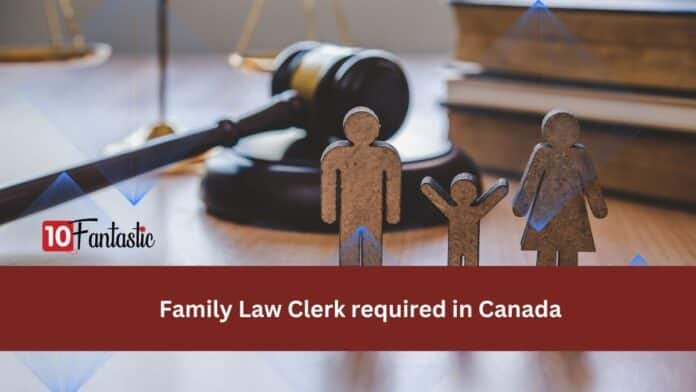 The company The Hiring Partner Inc. wants a Family Law Clerk in Canada immediately. The company offers full-time permanent employment for talented people. The candidates are to be determined and perform several shifts i.e. Morning, Night, Evening & Weekends, etc.
The company is hiring clerical persons who are familiar with legal firms and law-related issues to handle efficiently. The work site is airconditioned so people are able to work there. Working in a fast-paced environment and paying attention to detail. Eligible persons may bring up their documents to avail of these jobs.
Family Law Clerk Jobs:
Applicants may collect all relevant credentials;
Job Title: Family Law Clerk
Company Name: The Hiring Partner Inc 
The number of jobs: There is only 1 vacancy offered
Type of Job: Full-time permanent employment
Location of Job: Toronto, ON Canada  
Check Also: Medical Office Assistant required for Canada
Salary Package
The company offers $ 70,000 Canadian Dollars per year. The employees work 40 hours approximately a week.  
Academics & Expertise
The candidates must have college/ CEGEP level certification with English-spoken skills. Also, have more than 5 years of expertise in the same profession.
Facilities Provided by the Company:
A company gives;
Life Insurance
Group Insurance benefits
Long-term care insurance
Health care plan
Paramedical service coverage
Responsibilities/ Duties
The candidates perform;
Assist lawyers in preparation for mediation & judicial dispute resolutions
Witness & certify the validity of signatures on documents
Also, administer oaths & take affidavits and depositions
Draft contracts, prepare notes, and draw up wills, mortgages, and legal documents
Excellent communication skills
Time management & interpersonal skills
Research records, court files, and other legal documents
Prepare wills real estate transactions, court reports, and affidavits
Working in Legal Software applications, Database Management, and Spreadsheet software
Perform tasks in MS Outlook, Word, Windows, Office, Excel & Deivorcemate Software
A valid driving license is required
Draft legal correspondence & perform general office activities
Method for Applying?
Ideal candidates will apply for the Family Law Clerk required in Canada. Send us the latest CVs, recent pictures with educational testimonials;
Email: jobs@hiringpartner.ca
Disclaimer: Please note that we are not offering jobs directly. However, we gather these jobs from authentic sources and post on our website for our valuable users. Please contact them at your own risk. Thank you.