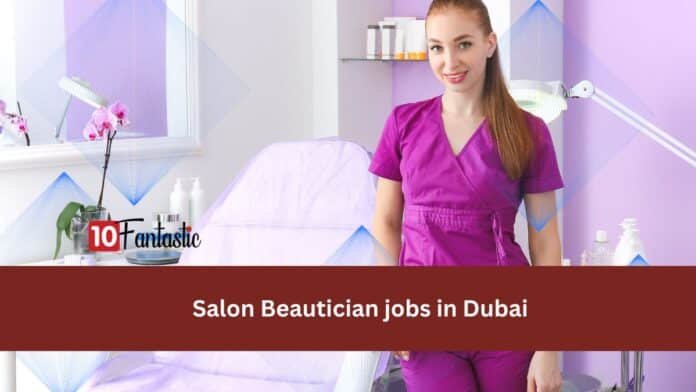 The Beauty/ Fitness industry offers Salon Beautician jobs in Dubai immediately. The company offers full-time permanent jobs with insurance facilities. The candidates are to be determined and perform various shifts i.e Morning, Evening, On-call, and Weekends.
The company provides opportunities for well-skilled and professional salon experts to perform the required work. Use different strategies to manage the work and perform efficiently work. The well-organized companies will prefer those candidates who are fully experts in the beautician field. So, suitable people may apply along with their credentials.
Salon Beautician Jobs:
Pick all documents and expertise before applying;
Job Title: Salon Beautician
Industry Name: Beauty/ Fitness
Number of jobs: 4 vacancies
Type of Job: Full-time permanent employment for both genders
Location of Job: Dubai, UAE
Check Also: Office Supervisor Jobs
Wages:
3500 to 3500 AED per month
& daily working hours are 8 to 10
Academics & Expertise
The people must have a secondary school graduation certificate with related expertise to manage the work.
Facilities Provided by Company:
A company provides;
Accommodation
Insurance
Overtime
Medical &
Transportation
Responsibilities/ Duties
The candidates shall perform;
A well-presented beautician require who performs relevant work
To provide beauty and related services to clients
Hair care, hair removal, and skin care treatments to clients as required
Advising clients on personal care routines to match their hairstyle & need
Excellent communication skills are required
Time management and interpersonal skills
Listen to clients in order to provide them with the best styles & services
Moreover, providing a wide range of skills in beauty services
Ability to advise clients on suitable hairstyles, nail colors, and skincare regimes
Should have retail skills to sell other beauty products and services
Apply the latest hair styling techniques to satisfy the requirements of customers
Availability of all the latest tools in the beautician's shop
Method for Applying?
Interested people should apply for Salon Beautician jobs in Dubai. Forward educational testimonials, experiences, and fresh pictures;
Email: hr.globale@gmail.com
Whatsapp: +971542852378