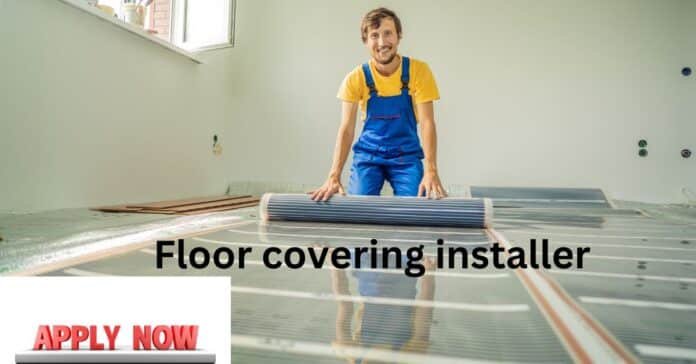 The company Real Flooring Inc has announced Floor Covering Installer jobs in Canada on urgent basis. The company offers full-time permanent employment for talented applicants. The candidates are to be determined and perform several shifts i.e daily, early morning, evening, On-call and flexible hours etc. 
Floor covering installers are skilled professionals who work in various settings to install, repair and maintain floors. They typically work with a wide range of flooring materials, including carpet, tile, hardwood and laminate. As such, floor covering installer jobs demand physical stamina and attention to detail.
In general, floor covering installer jobs require the ability to read blueprints or specifications, measure and cut materials accurately, and use specialized tools such as saws and drills. Additionally, these professionals must have strong communication skills to interact with customers and other contractors during projects. Some floor covering installers may also be responsible for estimating job costs and ordering supplies.
Overall, a career in floor covering installation can offer a rewarding opportunity for those interested in hands-on work that requires precision and creativity.
 Floor Covering Installer jobs:
More details about Floor Covering Installer vacancies are mentioned below:
Job Title: Floor Covering Installer
Company Name: Real Flooring Inc
Number of available positions: 5
Job Type: Full-time permanent job
Job Location: North York, ON
Wages
The company offers $39 Canadian Dollars per hour. The employees must work 30 hours approximately in a week. 
Check Also Dishwasher Jobs in Canada 
Qualification & Experiences:
Following are the requirements to apply for Floor Covering Installer positions in Canada. If you fulfill these requirements, then your selection will be easy;
Secondary/ high school graduation certificate is required
Also, good English spoken skills
Having 1 year to less than 2 years of working experience in same profession 
Responsibilities:
The applicants who are willing to apply must perform following responsibilities;
Remove existing floor coverings and contaminants
Also, prepare floors for installations and install hardwood floors
Perform direct glue-down carpet installation & measure carpeting on floors
Inspect and repair damaged floor coverings and work in residential areas
Excellent communication skills
Effective interpersonal skills are needed
Conduct moisture, ph, temperature and other tests proper to flooring installation
Measure, cut and install resilient floor coverings
Moreover, insall carpeting on walls/ other surfaces
Cut and fasten underlay and underpadding
Read and interpret blueprints, maps and specifications
Prepare tenders and quotations and estimate costs and materials
Using hard hat, gloves, mask and steel-toed safety boots
Prepare flooring plans and scheduling
Valid driving license and handling heavy loads
How to Apply?
However, interested people shall apply for Floor Covering Installer jobs in Canada. Also, send us detailed CVs, fresh pictures and experience certificates;
Email: realfloorjobs@gmail.com
Disclaimer: Please note that we are not offering jobs directly. However, we gather these jobs from authentic sources and post on our website for our valuable users. Please contact them at your own risk. Thank you.