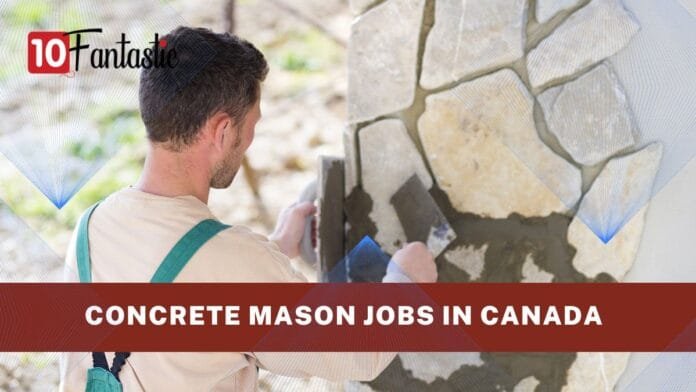 The company Blue Pacific Drywall Ltd. announced Concrete Mason Jobs in Canada immediately. The company offers full-time permanent jobs for skilled people. The people are to be determined and perform various shifts i.e Morning, Evening, Shift, Flexible Hours, and Overtime.
The company is requiring talented and professional masons of the concrete fields to perform assigned tasks. Canadian companies usually offer labor, technical, and mechanical positions, and many people are taking advantage of these vacancies. However, people are able to handle tough situations and provide full services.
Concrete Mason jobs:
The applicants will bring their documents & expertise;
Job Title: Concrete Mason
Company Name: Blue Pacific Drywall Ltd.
Number of jobs:
There are 5 vacancies offered
Type of Job:
Full-time permanent employment
Location of Job:
170 32 Westwinds Cres N E Calgary, AB T3J 5L3, Canada
Wages:
The company offers $30 Canadian Dollars per hour. The employees must work 40 hours weekly approximately
Academics & Expertise:
There is no certificate/ degree is mandatory but having good English speaking skills.
Facilities Provided by Company:
A company gives;
Overtime
Medical
Transport
Housing
Insurance
Responsibilities/ Duties:
The candidates performing;
Responsible to read & interpret maps, blueprints, and specifications
Operate CADD & other computer software systems
Also, fill hollows and remove spots on freshly poured cement
Operate power vibrators to compact concrete
Good communication & interpersonal skills
Check framework & steel reinforcement materials
Direct placement of concrete into forms onto surfaces according to grade
Moreover, install anchor bolts, door sills, steel plates, and other fixtures, etc
Apply to harden & sealing parts to cure surfaces
Impart desired finish to concrete surfaces using power & hand tools
To level top surfaces concrete according to depth & grade specifications
Perform waterproof, damp proof, and restore surfaces
Estimate costs and materials, instruct apprentices
Able to repair, and replace damaged sections of concrete structures
Method for Applying?
However, interested applicants will apply for Concrete Mason Jobs in Canada. Also, forward educational testimonials, experiences, and fresh photographs;
Email: bluepacificdrywall@yahoo.com