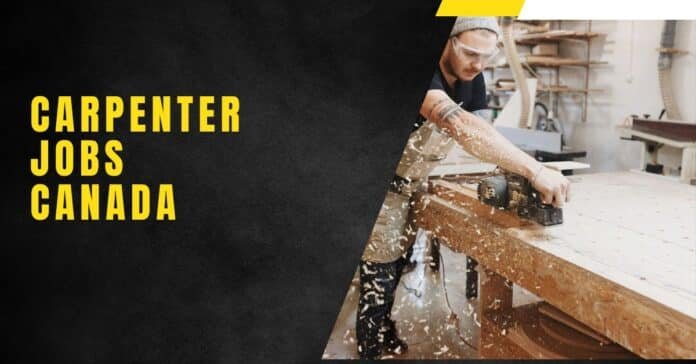 The company Jayveer Enterprise Ltd. has announced Carpenter jobs in Canada urgently. The company offers full-time permanent employment for committed people. The candidates are to be determined and perform various shifts i.e. Daily, Morning, Evening Weekend, etc. 
Carpenters are skilled tradespeople who work with wood, metal, and other materials to construct, install, and repair structures such as buildings, furniture, cabinets, and frameworks. They use a variety of tools including saws, drills, hammers and chisels to cut, shape, and join pieces of wood or metal together. In Canada, carpentry is one of the most in-demand trades as the construction industry continues to grow.
Carpenters have a wide range of job responsibilities which vary depending on their area of expertise. Some specialize in framing houses or buildings while others focus on finishing work like installing trim or building custom cabinetry.
Carpenter jobs in Canada:
The candidates must bring up important documents to apply;
Job Title: Carpenter
Company Name: Jayveer Enterprise Ltd
Number of jobs:
There are 4 vacancies offered
Type of Job:
Full-time permanent employment
Location of Job:
Surrey, BC, Canada
Apply Also Store Clerk required for Canada
Wages:
The company offers $30.50 Canadian Dollars per hour. The employees must work 30 to 40 hours approximately a week. 
Academics & Expertise:
Secondary (high) school graduation certificate & good English spoken skills. Also, having experience of 1 to less than 7 months in the same field will be an asset for him.
Facilities Provided by Company:
A company gives facilities to its workers;
Accommodation
Health care
Dental plan
Housing
Overtime
Responsibilities/ Duties:
The applicants perform the following responsibilities;
Load/ unload and transport construction materials from one place to othe
Remove rubble and other debris at construction sites
Read and interpret blueprints & work accordingly
Also, tend/ feed machines used in construction environment
Assist in demolishing buildings and other related construction areas
Use of drills and nail guns to perform specified actions
Working in residential areas and handling heavy loads
Wearing a hard hat, and working with steel-toed safety boots
Good communication skills
Effective interpersonal skills are needed
Work as a team player and complete tasks within a given amount of time
Method for Applying?
However, ideal applicants will apply for Carpenter jobs in Canada. Also, send us updated credentials, expertise and fresh photographs;    
Email: jagjeetsinghjohal11@gmail.com
Disclaimer: Please note that we are not offering jobs directly. However, we gather these jobs from authentic sources and post on our website for our valuable users. Please contact them at your own risk. Thank you.