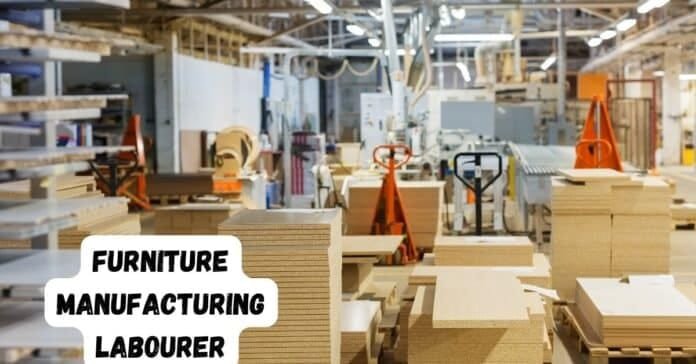 The company Sandher furniture manufacturing ltd announced Furniture Manufacturing Labourer needed in Canada immediately. The company offers full-time permanent jobs for skilled people. The persons are to be determined and perform various shifts i.e Early Morning, Weekend, Evening and Shifts.
The company gives preference to talented, skilled, and experienced labourers in the furniture manufacturing field. Willing to relocate and perform duties in a furniture-related company. Ability to handle large workloads and stand for extended periods of time. So, people may apply to avail these job vacancies.
The job responsibilities of a furniture manufacturing labourer in Canada are diverse and crucial to the industry. These individuals are responsible for various tasks, including assembling, finishing, and packaging furniture pieces. They often work closely with other team members to ensure that production targets are met while maintaining quality standards.
Furniture Manufacturing Labourer jobs:
Candidates collect their documents & expertise;
Job Title: Furniture Manufacturing Labourer
Company Name: Sandher furniture manufacturing ltd
Number of jobs:
There is only 1 vacancy offered by the company
Type of Job:
Full-time permanent employment
Location of Job:
Calgary, AB, Canada  
Check Also: Finish Carpenter vacancies in Canada
Wages:
The company offers $17.80 Canadian Dollars per hour. The employees must work 40 hours weekly approximately 
Academics & Expertise:
The people must have a secondary school graduation certificate/ equivalent experience. The company will train its employees after hiring.
Facilities Provided by Company:
A company gives;
Housing
Medical
Insurance
Pension Plan
Overtime
Responsibilities/ Duties:
The applicants will perform;
Responsible to assist machine operators, assemblers and other workers
Transport raw materials and equipment throughout the plant manually/ using powered equipment
Perform other labouring & elemental activities within the working environment
Excellent communication skills
Effective interpersonal skills are required
Check and weight materials and products
Clean machines and immediate work areas
Sort, crate and package materials & products
Physically fit to perform repetitive tasks as given by the company
Hand-eye coordination and deal large workloads easily
Moreover, handling heavy loads up to 23 kg weight
Familiarity with various furniture products used in the working field
Perform working according to the given guidelines
Method for Applying?
However, people must apply for Furniture Manufacturing Labourer needed in Canada. Also, send us updated CVs, fresh pictures and experiences;
Email: sandherfurniture@gmail.com
Disclaimer: Please note that we are not offering jobs directly. However, we gather these jobs from authentic sources and post on our website for our valuable users. Please contact them at your own risk. Thank you.