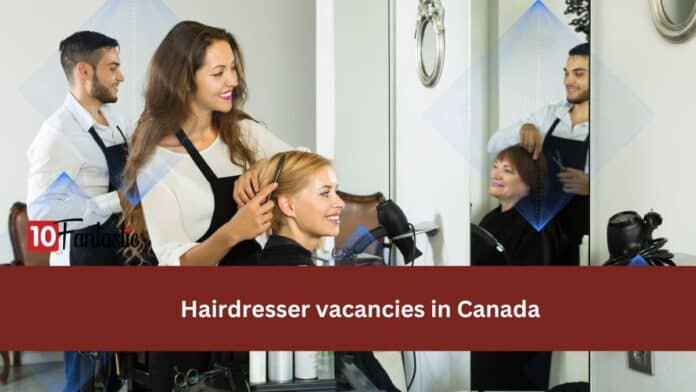 The company New Happy Hair Cut & Beauty Parlour Ltd. offers Hairdresser vacancies in Canada urgently. The company offers full-time permanent jobs for skilled people. The applicants are to be determined and perform various shifts i.e Morning, Flexible Hours, Overtime & Night, etc.
The company provides opportunities for lady saloon females as well as hairdresser specialists. Apply various techniques for hair for their proper treatment and other procedures. Perform hard work to complete daily work and pay attention to detail. Eligible persons may apply for these positions as soon as possible.
Hairdresser Jobs:
Collect all credentials & expertise to apply;
Job Title: Hairdresser
Company Name: New Happy Hair Cut & Beauty Parlour Ltd
The number of jobs: There are 2 vacancies offered
Type of Job: Full-time permanent employment
Location of Job: Delta, BC, Canada  
Check Also: Tire Changer jobs in Canada
Salary Package
The company offers $17.00 Canadian Dollars per hour. The employees work  40 hours approximately a week.  
Academics & Expertise
The candidates have high school graduation certificates in English speaking. Also, I have 2 to 3 years of working expertise in the hairdressing/ beauty parlor field.
Benefits Provided by the Company:
A company provides;
Housing
Medical
Insurance
Bonuses
Overtime
Responsibilities/ Duties
Applicants will perform;
Cut & trim hair according to instructions of the customers
Provide hair treatment i.e. waving, tinting & scalp conditioning massage
Supervise other hair stylists and other staff
Perform receptionist tasks and maintain and order supplies
Clean and style wigs and hair pieces
Shave and trim beards and mustaches
Supervise aprrencties/ studemts in training
Analyze hair & scalp condition & provide basic treatment
Moreover, apply for hair extensions, taper, curl, wave, and perm-style hair
Use techniques i.e. twisting, locking, blow drying, iron waving and permanents, etc
Shampoo customer hair and book next appointments
Apply bleach, tings, dyes/ rinses to color, frost/ streak hairs
Suggest hair style compatible with physical features of the clients
Method for Applying?
Ideal candidates must apply for Hairdresser vacancies in Canada. Forward educational testimonials, experiences, and recent pictures;
Email: happyhaircut200@gmail.com
Disclaimer: Please note that we are not offering jobs directly. However, we gather these jobs from authentic sources and post on our website for our valuable users. Please contact them at your own risk. Thank you