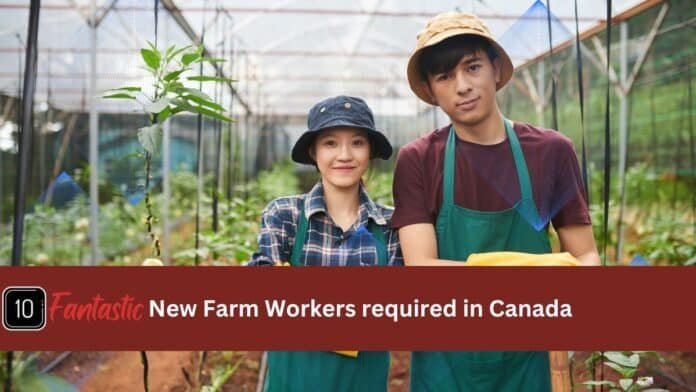 The company West River Holsteins wants New Farm Workers required in Canada urgently. The company offers full-time seasonal employment for skilled people. The applicants are to be determined and perform different shifts i.e Morning, Daily, Night, Evening, and Weekend.
The company requires skilled and talented farm workers for their required work in the farmhouse. Provide good facilities and give incentives to take interest in the fieldwork. Dealing with cows, sheep, and buffalos, milking them, and distributing them. So, eligible people may collect all credentials and apply very soon.
Farm Worker Jobs:
Collect all credentials before applying;
Job Title: Farm Worker
Company Name: West River Holsteins
The number of jobs: There is only 1 vacancy offered
Type of Job: Full-time Seasonal Employment
Location of Job: Antigonish, NS Canada
Check Also: Door Installers
Salary Package
The company offers $14 Canadian Dollars per hour. The employees work 30 to 45 hours approximately a week.
Academics & Expertise
No need to bring any degree/ certificate but have good English spoken ability. A company will train its workers after hiring.
Facilities Provided by the Company:
A company provides;
Accommodation
Insurance
Overtime
Medical
Transport
Responsibilities/ Duties
The applicants will perform;
Operate and maintain farm machinery and related equipment
Detect disease and health problems in livestock, crops, and poultry
Perform general farm duties & formulate feeding programs
Maintain livestock performance records on a regular basis
Good communication skills are needed
Time management & interpersonal skills
Assist in the development & implementation of farm safety procedures
Harvest crops, weeding, and monitoring animal health
Maintain quality control and production records
Moreover, recognize and treat certain livestock health issues
Clean stables, barnyards, pens, and barns
Maintain financial and production records of all livestock items
Milk cows, feed and tend animals
Expertise to operate manure handling storage, storage & silage system, automated environmental control equipment
Familiarity with automated milking systems, bulk grain/ feed handling equipment, etc
Method for Applying?
Interested people shall apply for New Farm Workers required in Canada. Forward educational documents, experiences, and latest pictures;
Email: jack.t@ns.sympatico.ca