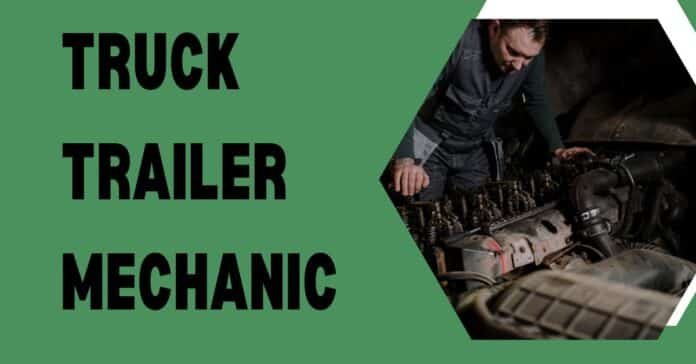 The company Akal Truck & Trailer Centre Inc announced Truck Trailer Mechanic required for Canada immediately. The company offers full-time permanent employment for well-versed personnel. The applicants are to be determined and perform various shifts i.e Evening, Shifts, Night and Early Morning, etc. 
Truck trailer mechanics are responsible for maintaining and repairing heavy-duty trailers and trucks. Their job involves inspecting, diagnosing, troubleshooting, and performing repairs on various truck components such as engines, transmissions, brakes, suspension systems, tires and wheels. They also work with electrical systems in order to diagnose issues related to the truck's wiring or computer systems
Truck Trailer Mechanic jobs:
The candidates must bring their documents to apply;
Job Title: Truck Trailer Mechanic
Company Name: Akal Truck & Trailer Centre Inc
Number of jobs:
There is 05 vacancy offered
Type of Job:
Full-time permanent job
Location of Job:
Winnipeg, MB, Canada  
Wages:
The company offers $25.25 Canadian Dollars per hour. The employees must work 30 to 40 hours approximately a week. 
Academics & Expertise:
The applicants must have high school graduation degree with good English spoken skills. Also, having 2 to 3 years of working experience in truck mechanic field.
Facilities Provided by Company:
A company gives the following;
Housing
Medical
Insurance
Overtime
Transportation
Responsibilities/ Duties:
The candidates shall perform the following;
Responsible to adjust, repair/ replace components of commerical tranport truck system
Also, replace and reapir parts of truck trailer system
Advise customers on work perfoemed and future repairs
Excellent communication skills
Outstanding interpersonal skills are needed
Test & adjust repaired system according to specifications
Moreover, complete reports to record issues and work performed
Perform scheduled maintenance services
Estimate parts and labor costs & attention to detail
Having hand-eye coordination and work as a team player
Standing for extended periods of time
Follow the instructions given & work accordingly
Method for Applying?
However, ideal persons will apply for Truck Trailer Mechanic required for Canada. Also, send us latest CVs, fresh pictures and experiences;
Email: jobs@akaltruckrepair.com
Disclaimer: Please note that we are not offering jobs directly. However, we gather these jobs from authentic sources and post on our website for our valuable users. Please contact them at your own risk. Thank you.