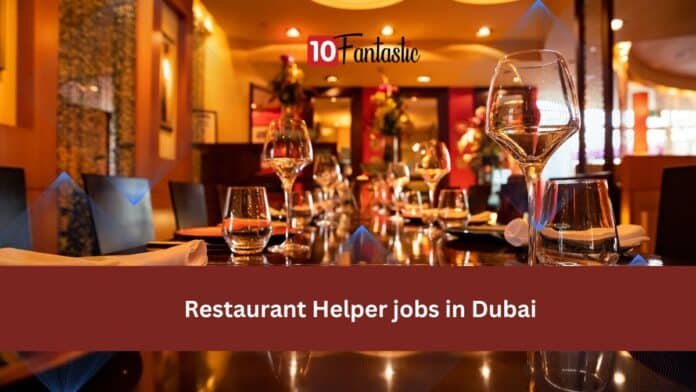 The Hotels/ Restaurant industry offers Restaurant Helper jobs in Dubai urgently. The company offers full-time permanent employment with housing facilities. The applicants are to be determined and perform different shifts i.e Evenings, Weekends, Nights, Early Mornings, etc.
The company opens up opportunities for talented and experienced persons who perform very well in a related field. Familiarity with all food items and ability to distribute to all special customers. Take orders and deliver required food dishes in a given amount of time. So, suitable professionals may apply along with updated credentials.
Restaurant Helper Jobs:
Collect all required credentials & expertise;
Job Title: Restaurant Helper
Industry Name: Hotels/ Restaurant
Number of jobs: 3 vacancies
Type of Job: Full-time permanent employment for both genders
Location of Job: Dubai, UAE
Check Also: AC Helper Jobs
Wages:
1700 to 2200 AED per month
& daily working hours are 8 to 10
Academics & Expertise
The candidates must have high school/ equivalent degrees with Arabic & English spoken. Also, having 1 to 2 years of working expertise in the hotel/ restaurant field.
Benefits Provided by Company:
A company gives;
Free Accommodation
Insurance
Overtime
Transport
Incentives
Responsibilities/ Duties
The people may perform the following;
Cleans and sanitizes kitchen equipment during the making of food items
Assist in food preparation and receiving other dishes if needed
Storing products in kitchens, clubs, fast food outlets, and catering companies
Good communication skills are needed
Effective interpersonal skills
Assist everyone in a Restaurant environment to guide them properly
Checking inventory levels and reporting to the kitchen manager
Loading and unloading dishwashers if going to any event
Collecting dirt and debris after the successful event is complete on hotel premises
Moreover, retrieve food items from the fridge/ freezers
Clean dishes, pots, and pans used in kitchen areas
Helping staff with unloading food items from delivery
Method for Applying?
Interested candidates shall apply for Restaurant Helper jobs in Dubai. Send us the latest CVs, recent pictures, and experience certificates;
Contact No: 0568749406