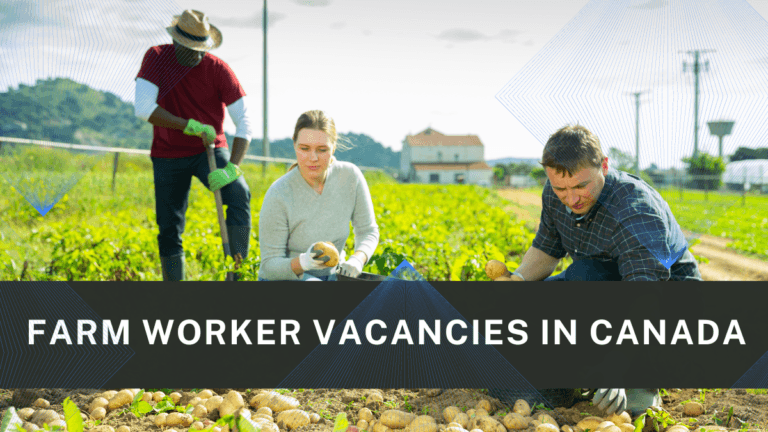 The company Khosa Farms Ltd. offered Farm Worker vacancies in Canada urgently. The company offers full-time and permanent jobs for talented people. The people are to be determined and perform different shifts i.e. Morning, Evening, shifts, Weekends, and Flexible Hours. 
In the vast and fertile landscapes of Canada, farm workers play an integral role in ensuring food security for the nation. With their unwavering commitment, they labor tirelessly to cultivate crops and care for livestock. These dedicated individuals possess a deep understanding of agriculture and are skilled in various farming tasks, including planting seeds, irrigating fields, harvesting crops, and tending to animals
Farm Worker Jobs
The people may apply for the following jobs and bring documents;
Job Title: Farm Worker
Company Name: Khosa Farms Ltd
Number of jobs:
There are 12 vacancies offered by the company
Type of Job:
Full-time permanent employment
Location of Job:
Surrey, BC, Canada  
Check Also: Farm Supervisor needed for Canada
Wages:
The company offers $16.75 Canadian Dollars per hour. The employees must work 40 hours weekly approximately 
Academics & Expertise:
No degree/ certificate is mandatory to join these positions. A company shall train its employees after hiring.
Benefits Provided by the Company:
A company provides the following;
Housing
Insurance
Overtime
Medical
Transport
Responsibilities/ Duties:
The applicants will perform;
Responsible for planting, cultivate and irrigating crops
Clean work areas and deal with vegetables & seasonal plants
Should be physically fit to perform required tasks
Good communication skills in English
Time management & interpersonal skills
Mix and prepare soils, plant bulbs and seeds in various lands
Transport seedlings/ rooted cuttings and stock them in the proper area
Also, report signs of insect or disease damage
Examine produce for quality and prepare for the market
Operate and maintain farm equipment and milk cows/ buffalos
Feed and tend livestock and poultry items
Assist in performing breeding activities of farm animals
Follow food safety and bio-security procedures set by the farmhouse
Spray, irrigate, and harvest different crops
Method for Applying?
However, interested persons may apply for Farm Worker vacancies in Canada. Also, collect important credentials, experiences, and fresh pictures;
Email: khosafarm123@gmail.com
Disclaimer: Please note that we are not offering jobs directly. However, we gather these jobs from authentic sources and post on our website for our valuable users. Please contact them at your own risk. Thank you