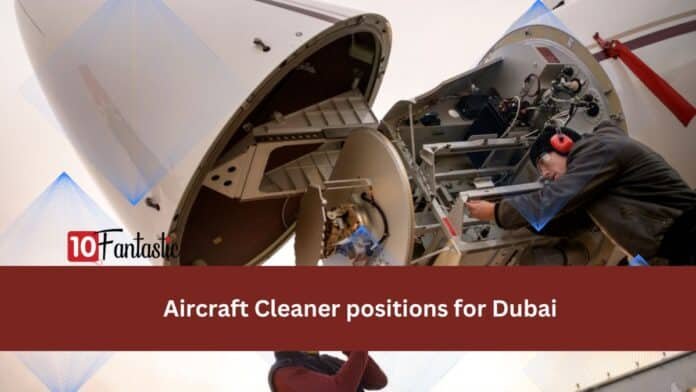 The airline industry offered Aircraft Cleaner positions for Dubai immediately. The company offers full-time permanent jobs with insurance facilities. The candidates are to be determined and perform different shifts i.e. Morning, Evening, Weekend, On-Call Overtime, etc.
The Dubai airline industry is known for its world-class service and luxurious flights. It takes a dedicated team to ensure that every aspect of a flight is perfect, including the cleanliness of the aircraft. This is where Aircraft Cleaners come in. They are responsible for maintaining the highest standards of cleanliness on board planes, ensuring that each passenger has a comfortable and enjoyable flight.
Aircraft Cleaner Jobs:
Before applying bring up all the latest credentials;
Job Title: Aircraft Cleaner
Industry Name: Airlines
Type of Job: Full-time permanent employment for males & females
Location of Job: Airport Terminal 3 Dubai, UAE
Check Also: Welders required in Dubai
Wages:
3500 to 4000 AED per month
& daily working hours are 8 to 10
Academics & Expertise
At least a high school graduation degree is needed but having good spoken skills in Arabic & English languages. Having less than 1 year of working expertise in cleaning environments.
Facilities Provided by the Company:
A company provides;
Accommodation
Incentives
Medical Allowance
Overtime
Commission
Responsibilities/ Duties
The applicants shall perform;
Responsible for keeping commercial aircraft clean and tidy
Deal politely with passengers and perform cleaning tasks when the last person left the plane
Use a variety of cleaning products and equipment
Keep the interior of the plane spotless
Also, using vacuums, brushes, and chemicals to clean the required items
Good communication skills are required
Effective interpersonal & time management skills
Cleaning cabins and compartments within the airport premises
Moreover, disinfecting restrooms and utilizing tools and equipment
Replenishing stocks i.e. soap and tissue
Remove floor boards and inspect structures
Sanitizing and mopping galleries and washrooms of the airplane
Method for Applying?
Interested people apply for Aircraft Cleaner positions for Dubai. Forward important credentials, experiences, and recent pictures;
Email:   hr.anikaglobal@gmail.com
WhatsApp: 971542765817
Disclaimer: Please note that we are not offering jobs directly. However, we gather these jobs from authentic sources and post them on our website for our valuable users. Please contact them at your own risk. Thank you.