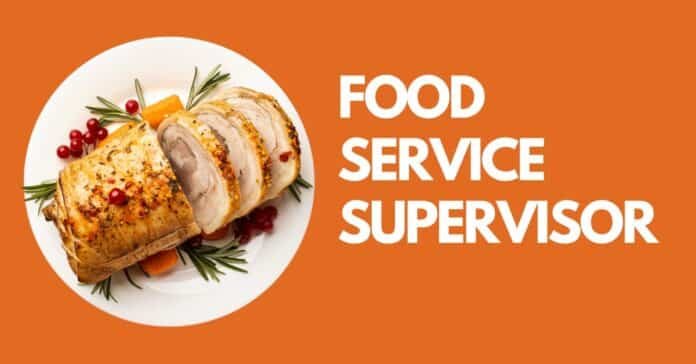 The company AARR FOODS LTD has offered Food Service Supervisor jobs in Canada on urgent basis. The company offers full-time permanent jobs for well-versed people. The applicants are to be determined and perform several shifts i.e daily, evening, Shifts, flexible hours and weekend etc. 
Food service supervisors play a critical role in ensuring that food establishments run smoothly and efficiently. They are responsible for overseeing the operations of food service facilities, including restaurants, cafeterias, and banquet halls. Food service supervisors work closely with chefs, cooks, waitstaff, and other personnel to ensure that customers receive high-quality food and excellent customer service.
Some of the key responsibilities of a food service supervisor include managing staff schedules and training new employees. They are also responsible for ensuring that all staff members are following proper hygiene procedures and safety guidelines when handling food. In addition to these duties, they must oversee inventory management, menu planning, pricing strategies, and ordering supplies to maintain adequate stock levels. Food service supervisors must also interact with customers to resolve any complaints or concerns promptly.
Food Service Supervisor jobs:
More details about Food Service Supervisor positions are mentioned below:
Job Title: Food Service Supervisor
Company Name: AARR FOODS LTD
Number of available positions: 2
Job Type: Full-time permanent employment
Job Location: 4146 DEPARTURE BAY ROAD Nanaimo, BCV9T 4B7 Canada
Apply Also: Bookkeeper required for Canada 
Wages
The company offers $19.00 Canadian Dollars per hour. The employees must work 40 hours approximately in a week. 
Qualification & Experiences:
Following are the requirements to apply for Food Service Supervisor vacancies in Canada. If you fulfill these requirements, then selection process will be easy;
High school graduation certificate is important for hiring
Good English spoken and oral skills
Should have 1 to 2 years of working experience in food service supervisors in a well reputed Restaurant/ Hotel
Responsibilities:
The applicants will perform following responsibilities;
Responsible to perform sanitation and safety procedures before activities of workers
Also, train staff according to job duties and establish methods to meet work schedules
Address complaints of customers and guest who visited the Restaurant
Supervise and coordinate activities of staff who prepare and portion food items
Outstanding interpersonal skills are needed
Good communication skills
Prepare and submit reports of daily work to high ups
Estimate and order ingredients and supplies within the Restaurant
Moreover, ensure food service and quality control
Supervise and check assembly of trays and maintain records of stock
Maintain repairs, sales and wastages to control all things
Control food service counter attendants and food preparers
Ability to supervise 5 to 10 people and deal with on-site customers
A company provides group insurance and other benefits to its employees to accommodate them
How to Apply?
However, interested people shall apply for Food Service Supervisor jobs in Canada. Also, collect original documents & send concerned certificates, experiences and fresh pictures;
Email: recruitment.aarr@gmail.com
Disclaimer: Please note that we are not offering jobs directly. However, we gather these jobs from authentic sources and post on our website for our valuable users. Please contact them at your own risk. Thank you.