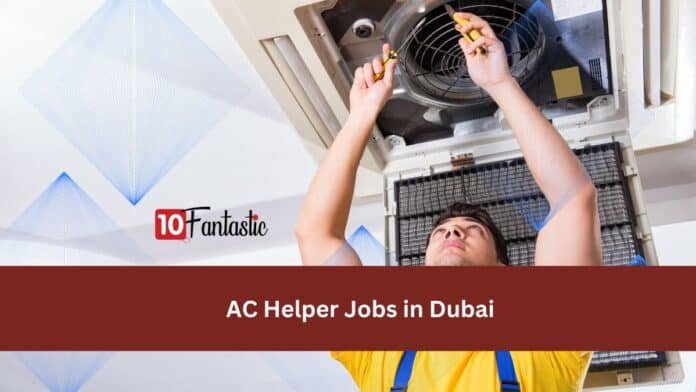 The Real Estate industry offers AC Helper Jobs in Dubai immediately. The company offers full-time permanent jobs with insurance facilities. The candidates are to be determined and perform several shifts i.e Morning, Evening, Flexible Hours, and Night/ Weekends, etc.
The company primarily hires AC helpers to assist with various tasks during repairs and maintenance of equipment. Deal with refrigeration, air conditioning, electric motors, and repairs exhaust fans and intake, etc. Assist senior workers while repairing AC and related equipment on regular basis. So, suitable professionals may apply along with the latest credentials.
AC Helper Jobs:
Bring up all important documents to apply;
Job Title: AC Helpers
Industry Name: Real Estate
Number of jobs: 5 vacancies
Type of Job: Full-time permanent jobs for males only
Location of Job: World Trade Center Street, Dubai, UAE
Check Also: Storekeeper Assistant Jobs
Wages:
1800 to 2300 AED per month
& daily working hours are 8 to 10
Academics & Expertise
The people must have secondary school graduation certificates with Arabic & English speaking skills. Also, having 2 years of working expertise in the same profession.
Facilities Provided by Company:
A company provides;
Housing
Insurance
Incentives
Medical care plan
Commission
Responsibilities/ Duties
The candidates may perform;
Perform work as requested by AC technician/ Supervisor
Secure parts and tools needed throughout the day for various tasks
Also, consult AC Technicians if there is any uncertainty in performing work
Assist in job sites with technicians as required
Coordinate with Supervisors for the use of company tools
Ensure they are returned to the office in a timely manner
Maintain company tools in a professional manner
Ability to be flexible to juggle multiple tasks
Able to work well with technicians and tradesmen
Moreover, maintain an area of work in neat conditions & leave it clean
A diploma in refrigeration/ equivalent certification would be beneficial
Expertise in GCC will be preferred for these jobs
Understandability of basic tools used in a working environment
Method for Applying?
Interested applicants shall apply for AC Helper Jobs in Dubai. Forward important documents, experiences, and latest pictures;
Email: recruit001@yahoo.com