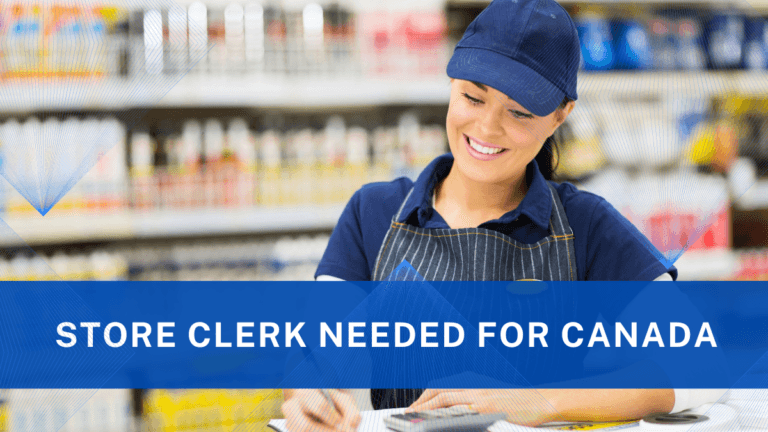 The company 504850 N B LTD Sunray Variety announced Store Clerk needed for Canada immediately. The company offers part-time leading to full-time permanent jobs for skilled people. The people are to be determined and perform several shifts i.e Evening, Night, Weekend, and Flexible Hours.
The clerical jobs offered by the popular companies of Canada on various occasions give job opportunities for talented people. Applicants are able to handle tough situations and are familiar with the required duties to perform efficiently. Understand the clerical matters of the company and deal with store items to maintain a proper record. So, suitable people may apply to avail of this offer.
Store Clerk jobs:
Applicants shall bring their credentials urgently;
Job Title: Store Clerk
Company Name: 504850 N B LTD Sunray Variety
Number of jobs:
There is only 1 vacancy offered by the company
Type of Job:
Part-time leading to full-time permanent employment
Location of Job:
23 Waterloo Street Saint John, NB E2L 3P5, Canada
Wages:
The company offers $15 to $16 Canadian Dollars per hour. The employees must work 16 to 36 hours weekly approximately.
Academics & Expertise:
No proper certification/ degree is required but having good spoken skills in the English language. Also, having 7 months to 1 year of working experience in the clerical field.
Facilities Provided by Company:
A company gives;
Accommodation
Wellness Program
Insurance
Compensation
Transport
Responsibilities/ Duties:
The candidates performed the following;
Responsible to operate the cash register & maintain sales of the store
Conduct sales transactions through internet-based electronic commerce
Prepare merchandise for rental/ lease and purchases
Good communication & interpersonal skills
Provide advice about merchandise and assist in display
Greet customers & provide services sought for purchase and rental
Also, deal with food and related product details in store
Proactively perform clerical tasks i.e drafting, typing, printing, and maintaining files of store items, etc
Method for Applying?
Interested people should apply for the Store Clerk needed for Canada. Send us updated CVs, fresh pictures, and required experiences;
Email: rezacanada1@gmail.com