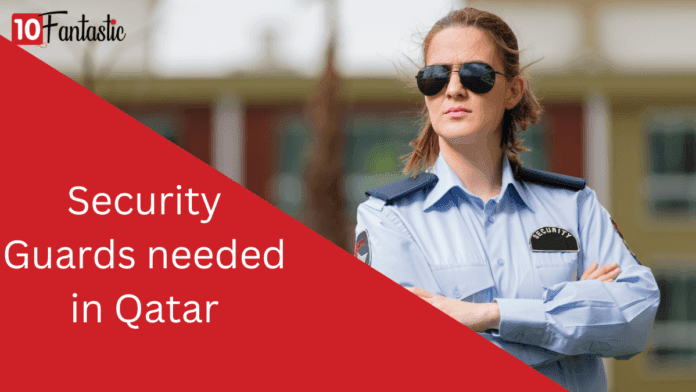 The Al Rayyan Project Management company wants Security Guards needed in Qatar urgently. The company offers full-time contract employment for 2 years & will be extendable. The candidates are to be determined and perform several shifts i.e Morning, Evening, Night, Weekend shifts, etc.
The Zafran Recruiting Agency offers more than 40 vacancies for Security guards & hires talented and professional people. However, people are working on a tight schedule, attention to detail & provide full services. Eligible people may collect important credentials & expertise to avail of these job positions.
Security Guard jobs:
Applicants will apply for these jobs as soon as possible;
Job Title: Security Guards
Company Name: Al Rayyan Project Management
Number of jobs:
There are more than 40 positions of Security Guards offered
Type of Job:
Full-time contract employment for males only
Location of Job:
Qatar
Wages:
The company offers 1600 to 2000 Qatari Riyals per month. The employees must work 40 to 50 hours approximately a week.
Academics & Expertise:
Candidates have high school graduation certificates with Arabic & English spoken skills. Also, having 3 to 4 years of working expertise in the same field.
Facilities Provided by Company:
A company gives the following;
Housing
Commission
Pension benefits
Overtime
Medical
Responsibilities/ Duties:
Perform the following duties;
Responsible to perform security-relevant tasks within company premises
Check each and every person before entering the building
Use of the latest security equipment when unknown persons are coming
The age of candidates must be 25 to 35 years
Work hard daily for 8 hours and perform overtime to earn more
Good communication skills & physique to perform work efficiently
The height of applicants must be above 5 feet 7 inches
Effective interpersonal skills are needed
Manage gate passes for company employees & provide them to reduce risks
Use of security alarms in all directions of the building to be alert if any mishap occurs
Keep all things safe and secure
Method for Applying?
However, interested applicants will apply for Security Guards needed in Qatar. Also, send us updated CVs, fresh pictures & experiences;
Email: Zafranrecruiting@gmail.com