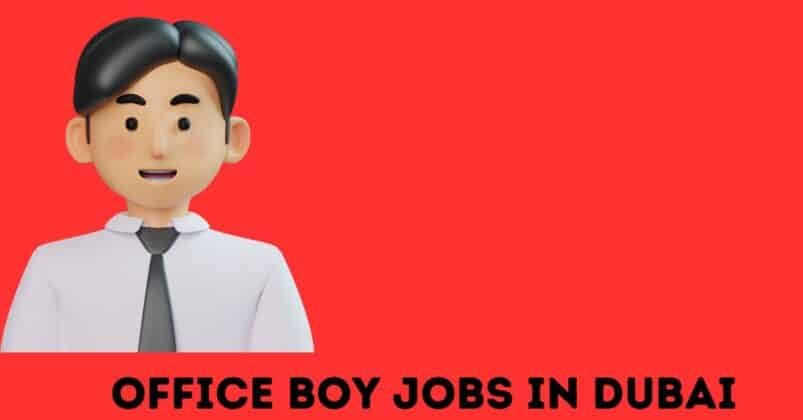 The Facility Management industry has offered Office Boy required in Dubai immediately. The company offers full-time permanent employment for males only. The applicants are to be determined and perform several shifts i.e. Daily, Evening, Night, Weekend Overtime, etc. 
Office boys, also known as office assistants, are an essential part of any organization. They perform a wide range of tasks that keep the workplace running smoothly. From delivering documents and making coffee to managing inventory and answering phone calls, office boys are responsible for many important duties.
To become an office boy, you will need to have excellent organizational skills and be able to multitask effectively. You should also possess strong communication skills as you will be interacting with clients and colleagues on a daily basis. Additionally, attention to detail is crucial in this role as you will be responsible for maintaining a clean and organized work environment. Office boys typically work under the supervision of administrative staff or managers and may be required to work evenings or weekends depending on the needs of the organization.
Office Boy jobs:
Bring up important documents & experiences to apply;
Job Title: Office Boy
Type of Job:
Full-time permanent employment
Location of Job:
Dubai, UAE  
Apply Also:
Wages:
The company offers 2500 to 3000 AED per month. The employees must work 40 to 50 hours approximately a week. 
Apply Also: Packing Helper vacancies in Dubai
Academics & Expertise:
Applicants shall have at least high school certification with Arabic & English spoken skills. Also, having 2 to 5 years of working experience in the same profession.
Benefits Provided by the Company:   
A company gives to its employees;
Accommodation
Incentives
Housing
Return Ticket
Overtime
Responsibilities/ Duties:
To perform the following duties;
Office cleaning and maintaining day-to-day activities assigned by the manager
Answer telephone calls if necessary
Able to make and serve tea/ coffee/ juice to guests
Deliver emails, correspondence, documents & other personal concerns
Good communication skills in English
Monitoring the use of equipment & supplies within the office
Moreover, organize & control kitchen & office material storage
Keeping track of all material consumption
Welcoming visitors and cleaning the office at the start of the working day
Method for Applying?
However, suitable applicants must apply for Office Boy required in Dubai. Forward educational testimonials, experiences, and updated photographs;
Email:  rozadave26@gmail.com
Whatsapp: 0555404736
Disclaimer: Please note that we are not offering jobs directly. However, we gather these jobs from authentic sources and post them on our website for our valuable users. Please contact them at your own risk. Thank you.