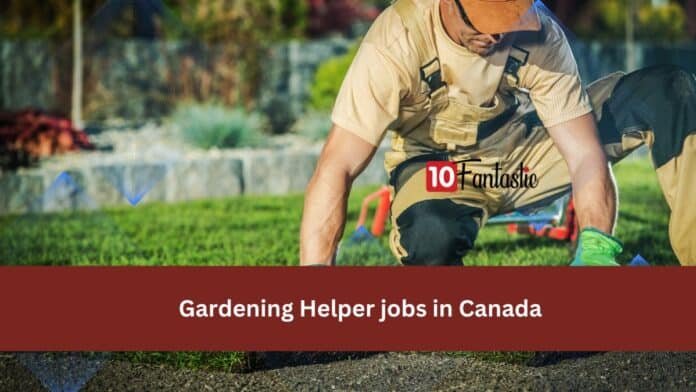 The company Puneet Gardening Services Ltd. offers Gardening Helper jobs in Canada immediately. The company offers full-time permanent jobs for talented people. The candidates are to be determined and perform several shifts i.e. Morning, Evening, Night & Weekends, etc.
The company requires people who are experts in the landscape and gardening field to perform related work. Working on a tight schedule and meeting with clients and staff members to discuss a variety of plants. Eligible personnel may collect all documents to apply for these vacancies.
Gardening/ Landscape Helper Jobs:
To collect all credentials before applying;
Job Title: Gardening/ Landscape Helper
Company Name: Puneet Gardening Services Ltd
The number of jobs: There are 2 vacancies offered by the company
Type of Job: Full-time permanent Employment
Location of Job: Surrey, BC Canada  
Check Also: Room Cleaner vacancies in Canada
Salary Package
The company offers $21 Canadian Dollars per hour. The employees work 40 hours approximately a week.  
Academics & Expertise
The candidates must have secondary school graduation with English speaking skills. Also, having 1 to 2 years of working expertise in the same profession.
Benefits Provided by the Company:
A company gives the following;
Free Accommodation
Insurance
Overtime
Transport
Medical
Responsibilities/ Duties
The applicants shall perform;
Assist with landscape construction and garden on the company premises
Rake and collect refuse
Cart and spread topsoil and other related materials
Excellent communication skills
Time management and interpersonal skills
Plant bulbs, flowers, shrubs, trees, etc
Operate and maintain landscape maintenance equipment
Apply fertilizers and see what happens to different plants & flowers
Weed, prune, and trim trees and plants in the garden
Remove litter and garbage to clean and neat the environment
Write daily progress reports and submit them to the management
Water and tend to plants, lawns/ gardens
Handling heavy loads and performing repetitive tasks
Work under pressure and pay attention to detail
Method for Applying?
Ideal persons must apply for Gardening Helper jobs in Canada. Send us updated CVs, recent photographs, and educational testimonials;
By mail: 6111, 142 StreetSurrey, BCV3W 1C8
Disclaimer: Please note that we are not offering jobs directly. However, we gather these jobs from authentic sources and post them on our website for our valuable users. Please contact them at your own risk. Thank you