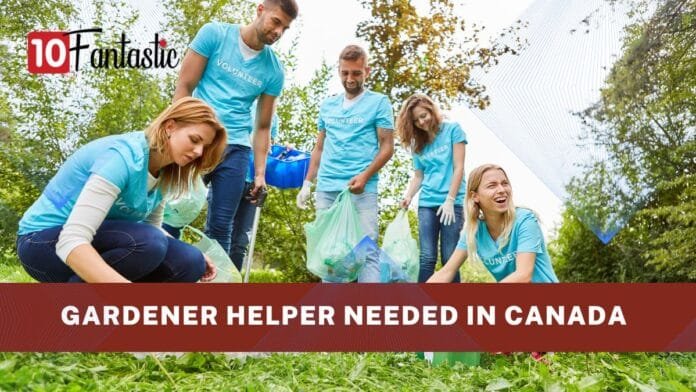 The company Param Landscaping and Fencing Ltd wanted Gardener Helper needed in Canada immediately. The company offers full-time contract employment for skilled people. The candidates are to be determined and perform different duties .
The popular Canadian industries offered a large number of labor and helper jobs to give job opportunities. Perform all work efficiently and follow rules and procedures set by the company. Able to handle pressure and work according to requirements and willing to work anywhere in Canada. Awareness about Gardens and play areas and maintaining the environment clean and green.
Are you passionate about gardening and enjoy working outdoors? Are you looking for a fulfilling job that allows you to connect with nature? Look no further! As a Gardener Helper in Canada, you will have the opportunity to assist professional gardeners in maintaining and beautifying gardens across the country. This role offers a range of responsibilities that will not only enhance your skills but also allow you to contribute positively towards creating visually stunning landscapes.  
Gardener Helper jobs:
The people must avail the opportunity and apply for them
Job Title: Gardener Helper
Company Name: Param Landscaping and Fencing Ltd
Number of jobs:
There is only 4 vacancy offered by the company
Type of Job:
Permanent full time employment
Location of Job:
Vancouver, BC Canada
Check Also: Metal Fabricator Required in Canada
Wages:
The company offers $27.50 Canadian Dollars per hour. The employees must work 35 to 40 hours weekly approximately. 
Academics & Expertise:
No degree, certificate or diploma needed but English speaking skills required. Also, having experience in the same field will be an asset for him.
Benefits Provided by Company:
A company gives;
Dental Plan
Disability benefits
Bonus
Financial & vision care benefits
Free Parking
Responsibilities/ Duties:
The applicants perform;
Responsible to assist with landscape construction
Also, cart and spread topsoil and other materials
Water and tend to plants, lawns & gardens, etc
Good communication skills
Effective interpersonal skills are needed
Remove litter, garbage, and other dusty things on the premises of the garden
Operate and maintain landscape maintenance equipment
Work in outdoor environment and cut grass where needed
Moreover, weed, prune, and trim trees and plants
Plant bulbs, flowers, shrubs, and trees
Lay seed and repair garden equipment if not functioning
Method for Applying?
Interested people shall apply for Gardener Helper needed in Canada. Forward educational testimonials, experiences, and fresh photographs;
Email: jobs.paramlandscaping@outlook.com
Disclaimer: Please note that we are not offering jobs directly. However, we gather these jobs from authentic sources and post on our website for our valuable users. Please contact them at your own risk. Thank you.