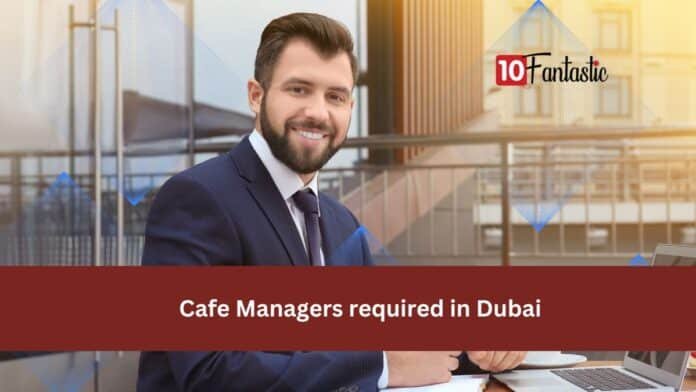 The Hotels/ Restaurant industry wants Cafe Managers required in Dubai urgently. The company offers full-time permanent employment with housing facilities. The applicants are to be determined and perform several shifts i.e. Morning, Night, Evening, On Call, and Weekends.
The company looks to hire professional and skilled personnel to perform managerial activities in the cafe. Familiarity with the latest equipment and assigning different roles to staff members. Perform daily activities and supervise all members according to requirements. So, people will collect all documents as soon as possible.
Cafe Manager Jobs:
Bring all credentials to apply soon;
Job Title: Cafe Manager
Industry Name: Hotels/ Restaurant
Number of jobs: 1 vacancy
Type of Job: Full-time permanent jobs for both sexes
Location of Job: Al Qusais, Dubai, UAE
Check Also: Office Assistant Staff Required for Dubai
Wages:
4000 to 5000 AED per month
& daily working hours are 8 to 10
Academics & Expertise
Possessing a graduation degree with Arabic & English spoken skills. Also, have 1 to 2 years of working expertise in the management field.
Benefits Provided by Company:
A company gives;
Insurance
Overtime
Incentives
Medical
Housing & Accommodation
Responsibilities/ Duties
The people must perform;
To oversee the day-to-day operations of the cafe
Hire, train, and supervise cafe staff
Resolve customer complaints and ensure food, health & safety regulations
Preparing weekly work schedules for staff members
Excellent communication skills are needed
Time management and interpersonal skills
Finding suitable replacements in case of absent staff members
Sound knowledge of food health and safety regulations
Monitoring daily expenses & revenues within the cafe
Ordering supplies i.e. coffee, milk, snacks, etc
Selling food and drink items to specified customers
Contacting and placing orders with suppliers
Guide store workers in delivering customer service
Supervise cafe workers and assign different roles
Showing excellent behavior towards clients while they come into the cafe
Method for Applying?
Interested applicants shall apply for the Cafe Managers required in Dubai. Forward educational testimonials, experiences, and recent pictures;
Email: hassanpremierpes@gmail.com
Disclaimer: Please note that we are not offering jobs directly. However, we gather these jobs from authentic sources and post on our website for our valuable users. Please contact them at your own risk. Thank you.