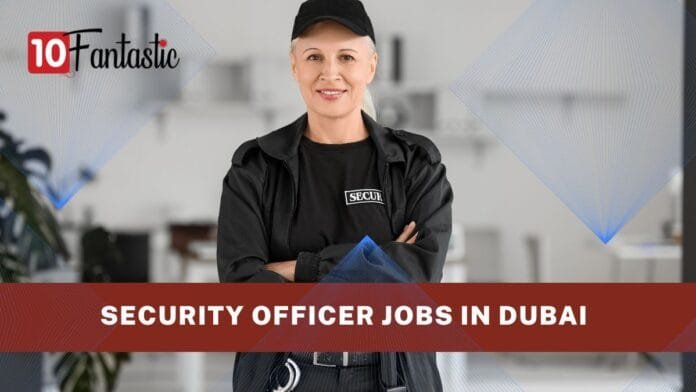 The Consultancy industry offers Security Officer jobs in Dubai urgently. The company offers full-time permanent employment with insurance benefits. The applicants are to be determined and perform different shifts i.e Morning, Night, Evening, Flexible Hours and Overtime.
The mid-career job opportunities provided by our company to well-skilled and professional personnel to perform security tasks. Perform duties in the security control room, lobby, loading bay, and parking lot of the company. Protect the guests and keep the peace, to inform and sell other hot facilities to all visitors of the hotel. So, eligible candidates may collect all credentials as soon as possible.
Security Officer Jobs
The people will bring their documents to apply;
Job Title: Security Officer
Industry Name: Consultancy
Number of jobs: More than 8 vacancies offered
Type of Job: Full-time permanent jobs for both genders
Location of Job: Sheikh Zayed Road, Dubai, UAE
Wages:
2500 to 3000 AED per month
& weekly working hours are 40 to 50
Academics & Expertise
The candidates must have intermediate/ college level education with good English and Arabic speaking skills. Also, having 5 to 7 years of working expertise in the same field.
Benefits Provided by Company:
A company gives;
Full Accommodation
Insurance
Medical
Transport
Housing
Incentives & Bonuses
Responsibilities/ Duties
Actively perform the following duties;
Responsible to perform patrolling and observing tasks on a daily basis
To exercise flexibility to maintain a balance between effectiveness & unconstructiveness
Understanding & ability to work in a multicultural environment
Possessing a security guard SIRA certificate and expertise in the field
Act for and on behalf of the hotelkeeper on security matters
Inform and sell other hotel facilities to all guests
Promote gentlemanly behavior image of security services
Familiar with all the latest tools and technologies used in the field
Awareness of security-related equipment & operate them efficiently
Check each and every person before entering the building premises
Method for Applying?
However, people shall apply for Security Officer jobs in Dubai. Also, forward educational testimonials, experiences, and recent pictures;
Email: nowjobs580@gmail.com
Contact No: 0528098408