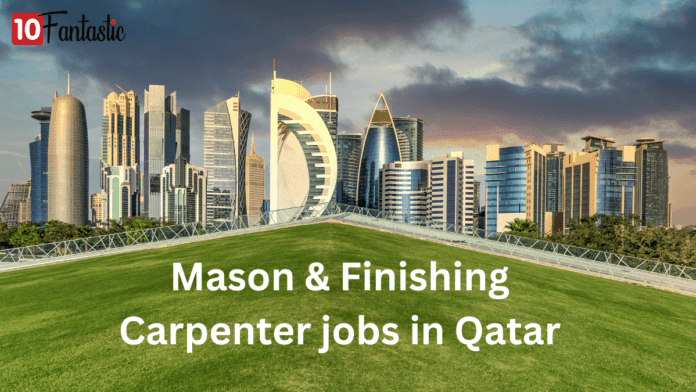 The Union Manpower Services company offers Mason & Finishing Carpenter jobs in Qatar immediately. The company offers full-time contract jobs for 2 years and later on renewable. The people are to be determined and perform various shifts i.e Daily, Morning, Evening & Night shifts, etc.
The famous companies in Qatar require a large number of laborers and other technical staff to perform the required work. Providing all basic benefits along with incentives & bonuses to attract more audience. However, people who are eligible & having expertise in the concerned field are applying for these vacancies to avail of this job offer.
Mason & Finishing Carpenter jobs:
Suitable candidates will apply to avail of these jobs;
Job Title: Mason & Finishing Carpenters
Company Name: Union Manpower Services
Number of jobs:
There are more than 10 vacancies offered
Type of Job:
Full-time contract employment for male candidates
Location of Job:
Qatar
Wages:
The company offers 1700 to 2000 Qatari Riyals per month. The employees must work 40 to 50 hours approximately a week.
Academics & Expertise:
The people must bring up high school or relevant qualifications/ degree with good English spoken skills. Also, having 2 years of working experience in required field.
Benefits Provided by Company:
A company provides;
Accommodation
Bonus
Food & Health Allowance
Overtime
Transport
Responsibilities/ Duties:
Able to perform following responsibilities;
Responsible for installing crown molding
Interpret blueprints of the interior of homes
Applying protective layers to surfaces
Also, measuring dimensions of spaces & inspecting the home for dents/ scratches
Good communication & time management skills
Polishing blocks of stone & installing dressed stone
Moreover, mixing cement, and mortar & restoring damaged masonry works
Building structures with stone, concrete, and tile
Cutting, shaping & dressing materials
Carrying and lifting mason blocks to assigned places
Prepare surfaces prior to work & maintain walls, sidewalks, etc
Method for Applying?
However, interested people should apply for Mason & Finishing Carpenter jobs in Qatar. Also, send us updated CVs, recent photographs, and experience certificates;
Email: union_2458@yahoo.com