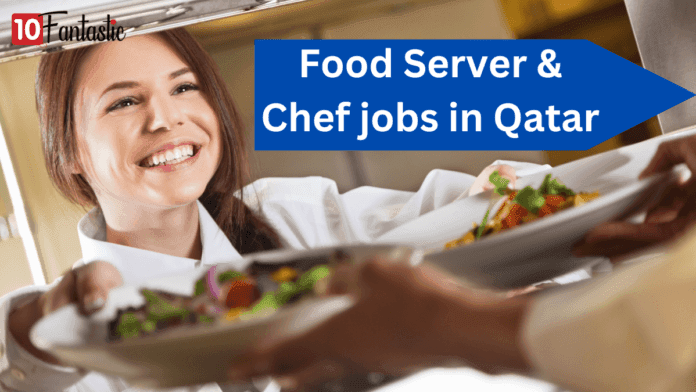 The Malik Enterprises company offers Food Server & Chef jobs in Qatar immediately. The company offers full-time permanent employment with insurance facilities. The applicants are to be determined and perform different shifts i.e Morning, Weekend, Shifts, Overtime & Night, etc.
The Qatar Airport Project requires a large number of vacancies for several positions announced by the company. Searching for talented, skilled, and professional persons to perform assigned work in a given amount of time. Able to handle tough situations and work according to instructions provided by the management.
Details of jobs:
The people may apply for the below positions;
Job Title: Food Server, Chef, Steward, Bar Attendant, Food & Beverage Attendant, CHef di partie, Bartender, Food & Beverages Host & Hostess, Service Associates, Food & Beverage Services
Company Name: Malik Enterprises
Number of jobs:
There are more than 50 jobs for various positions announced by the company
Type of Job:
Full-time permanent jobs for both sexes
Location of Job:
Doha, Qatar
Wages:
The company offers 2400 to 6200 Qatari Riyals per month. The employees must work 40 to 50 hours approximately a week.
Academics & Expertise:
The people must have high school/ required certification/ diploma holder in a specific field to perform work. At least 2 to 3 years of working expertise in the concerned field.
Benefits Provided by Company:
A company provides;
Accommodation
Housing
Commission
Health
Bonus & Overtime
Responsibilities/ Duties:
Perform the following duties;
Responsible to perform assigned work in the same field
Familiar with working of Chef, Commi 1 & Commi 2 chef
Serve food items to all guests of the Hotel/ Restaurant
Operate kitchen work and provide services of steward to all customers
Give services within Restaurant and provide required food items
Host guests and take food orders
Candidates must have 20 to 35 years are eligible for applying
Also, knowledge of all positions work and job descriptions & perform accordingly
Able to handle situations and physically fit
Method for Applying?
However, interested persons will apply for Food Server & Chef jobs in Qatar. Also, send us detailed CVs, fresh pictures & experiences;
Email: cv@ame.org.pk